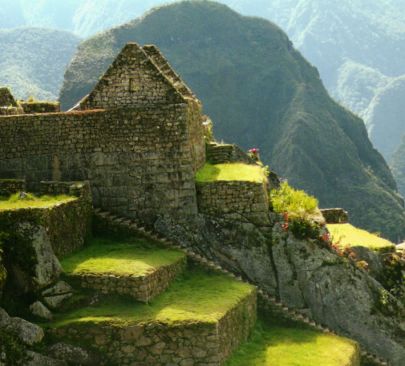 The Wind Dorm is a building that appears to have sprung up out of the Earth, grown instead of built. Formed like a pyramid the Little Windy Hill has wide, green terraces at every level, open to the air from any angle. A wide, stone staircase leads up and up and up to the very top in a single straight line.
The staircase opens onto each terrace in a wide landing to allow access to the grass pastures and fields. The landings and terraces grow narrower the closer they are to the top.
The terraces towards the bottom are wide enough for a few sports fields, and the ones closer to the top form open-air classrooms. Some are only wide enough for one or two people to walk side-by-side. There are designated landing zones closest to the main staircase for gliders, and other places to practice air magic or fly kites.
At all hours of the day, students run up and down these terraces, flitting from one to another with the support of their hang gliders, or merely the power of the wind at their backs. Those without magical gifts become some of the fittest students on campus.